Looking for something fun and different for your next group or club meeting, class or family reunion, business offsite, or other gathering? Why not try Scottish Country Dancing?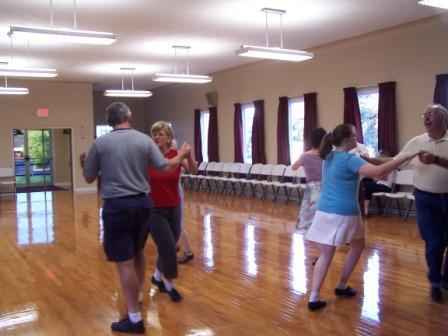 Introductory Lessons: The Flying Ghillies are available to teach one- to two-hour introductory lessons in Scottish Country Dancing to groups of eight or more adults or teenagers. Scottish Country Dancing fosters teamwork, is good exercise for the body and the brain, and (most importantly) is great fun.
Requirements:
At least eight adult or teenaged participants
A smooth, flat, clean floor approximately 20 x 16 feet for every eight participants (hardwood floors preferred, but any smooth floor with good traction – linoleum, low-pile carpet, etc – will work)
Indoor, climate-controlled rooms preferred
Electric power for our sound equipment
Participants should wear soft-soled shoes and loose, comfortable clothes that don't restrict movement. While Scottish Country Dancing can be pretty vigorous, anyone who can walk at a brisk pace will be able to enjoy our introductory classes.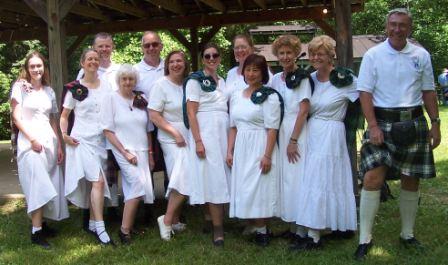 Our Performance Team is also available for demonstrations at private and public events. In addition we have and will continue to perform at International and Celtic Gatherings as well as nursing homes and other venues.
We do normally charge a fee based on the number of performances, but this may be reduced or waived in certain circumstances.
We request 4 weeks notification for preparation and, along with the above requirements, need the following:
date(s) – Please pick 2-3 dates (preferred and backup possibilities).
time(s) – bear in mind a number of our dancers work.
duration of the performance
specific location
a point of contact (name/email/phone number).
We will try to accommodate all requests. However, we will need a minimum of six of our dancers and a good number of them work full time. For these reasons, we request you focus on evenings or weekends.