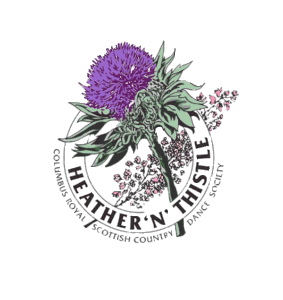 Established in 1992, Heather N Thistle welcomes dancers of all levels at all times. Columbus became the first "twig" of the Cincinnati Branch in 1995 and is also an Affiliate Group of the RSCDS.
TIME: Thursdays 7:30-9:30 p.m.
See class dates below or contact us to confirm we are dancing.
LOCATION:
Gates-Fourth United Methodist Church
119 E Gates Street
Columbus, Ohio 43206
DETAILS: The church is in Merion Village a few blocks south of Thurman and sits on the corner of Gates and Fourth. Park along the street and climb steps on Fourth Street side to double doors. Ring the doorbell and a dancer will come greet you.
COST: $3 per night or talk to the treasurer about paying a one-time annual fee.
Your first class, meetings, and party nights are free!
BALL PREP for RSCDS CENTENARY TEA DANCE:
August 31
September 7-21-28
NO CLASS-Sept 14
REGULAR CLASS DATES FOR 2023-2024 DANCE SEASON:
2023
October 5-12-19*
NO CLASS-October 26
November 2-9-16-30
NO CLASS-Nov 23
December 7-14**
NO CLASS-Dec 21-28
2024
January 11-18-25
NO CLASS-Jan 4
February 1-8-15-22-29
March 7-14-21
NO CLASS-March 28
April 4-11-18-25
May 2-9-16-23-30
June 6-13**
* Meeting Night
** PARTY NIGHT!